It looks like our president-elect is gaining his political chops in the nick-a time. We can rest in confidence, knowing he'd never bad-mouth a civil rights icon near Martin Luther King Day and trash the entire city of Atlanta. We'll even nap through his weekend tweets: "Congressman John Lewis [of Georgia's fifth district] should spend more time on fixing and helping his district, which is in horrible shape and falling apart (not to…… mention crime infested) rather than falsely complaining about the election results. All talk, talk, talk – no action or results. Sad!"
Uhhh …
Insulting Congressman Lewis stands on par with calling John Glenn a wuss. He headed the Student Nonviolent Coordinating Committee from 1963 to 1966, which spurred the Mississippi Freedom Summer and organized voter registration drives. And he played a key role in the pivotal march over the Edmund Pettus Bridge in Selma, where cops attacked and bloodied nonviolent demonstrators. It was a classic police riot. He also spoke in 1963 at the March on Washington and, before all that, led sit-ins in Nashville.
And then he was elected to Congress, representing most of Atlanta and some of its 'burbs.
Such has been the life of this man of "no action." Meanwhile, Donald Trump was applying for draft deferments, which would be no problem, but he went from there to joining his father's real estate firm, which turned down African Americans as tenants.
No elected president would be happy with Lewis's pledge not to attend the upcoming inauguration ceremony because Trump is not a "legitimate" president, but seasoned politicians learn to suck it up: "I appreciate Congressman Lewis's service to our great nation …" They don't insult heroes or entire cities.
Here's a photo of no-action John, wearing a white coat, facing the state police at the infamous bridge: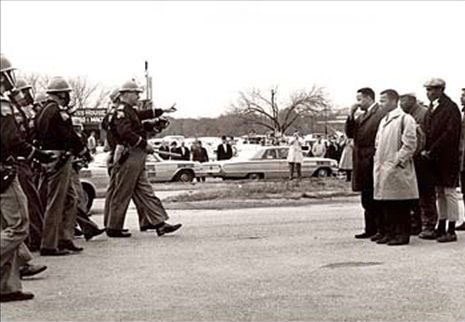 There have been plenty of tweets in response to the president-elect's latest. Here's one from Bess Kalb:
"Honey, you can't keep waking up flooded with rage over the election and your critics. You're going to make yourself sick."
And another gem from her:
"Oh dear lord, honey, it's MLK weekend and this is John Lewis on the far right. Hand over your Twitter to a nice aide."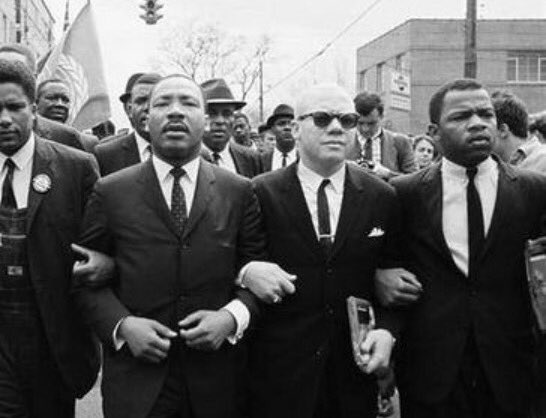 Here's a picture of Atlanta, which is in "horrible shape:"
And here's a video of the non-action at Selma: